NEWSLETTER #9 - NOVEMBER 2016
Hi there

Welcome again to your bi-monthly dip into the world of Mulholland.

Two Cities
Last time we wrote we were putting (what we thought would be) the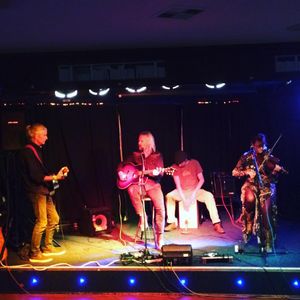 finishing touches to our two gigs in York and Hull. The plan was to have five bands playing on two nights. A few days before the first gig in York we received the news that the venue (the Basement) was flooded. Luckily the Fulford Arms was free and we went ahead with what was a brilliant, well attended night. We followed it two days later with a rerun in Hull at the Springhead, again it was a great, really enjoyable night with Vinnie Whitehead, Urban Rain, Happy Endings and The Quicksilver Kings.

Talking about the Fulford Arms, the recording of our previous gig there is now available.

Borderlands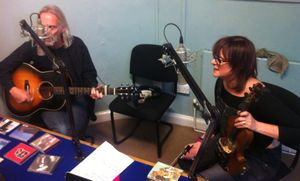 The week after the Two Cities gigs we headed up the east coast towards Scotland stopping off in Alnwick on the way for a live session at Lionheart Radio. We spent a couple of very enjoyable hours chatting to Charles Ellis, picking some of our favourite tracks by our favourite artists and singing some of our ditties. There should be a recording of the session available in a few weeks time, keep an eye out for a link on Facebook and the website.

Following our goodbyes it was onwards to Edinburgh for a special weekend, our 5th wedding anniversary. As well as spending some time checking out the sights in the lovely city we marked the occasion with an intimate gig at the Bluebird Cafe. Named after the iconic Nashville venue, it's a great little place run by country, especially Jason Isbell, enthusiast Kylie Macgregor. We included a Jason Isbell song (Travelling Alone) in our set, now firmly part of our repertoire. We'll be back at the 'Bird next year with a bit of luck.

Little Fest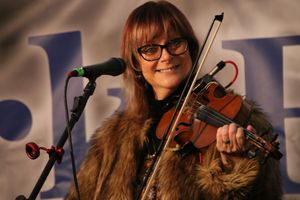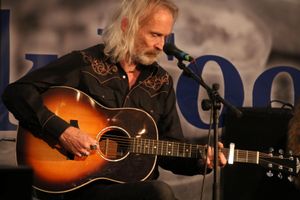 As we mentioned last time, we played a fair few festivals over the summer, many for the first time but a regular one we did, which goes from strength to strength, is York's Little Festival of Live Music. Now not so little with seven nights of music showcasing the best of York's musicians. Here's a couple of photos from the day courtesy of Zoe Toone.

New Haunts
Although it's good to return to venues it's also good to play new places. We headed down to Doncaster early in October to meet up with our good friend Toby Burras who runs an open mic at the Flying Scotsman Tap. It's always a bit of a unknown quantity when walking into a new venue so it was great to see that the pub included a stage, lights and sound system, all of which made it feel special. As was the lovely appreciative audience.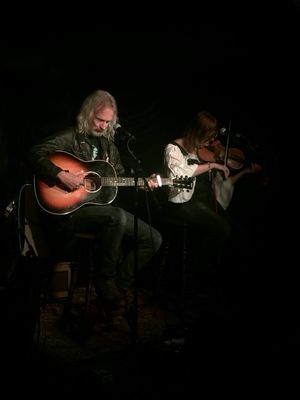 You will have read about our previous nights at Boss Caine's Sundown Sessions, originally at Nevermind and now the Fulford Arms in York. Well, the day after Toby's gig we were on the train to that there London to spend a couple of days in north London ending with our gig at Boss Caine's London Sundown Sessions at Aces & Eights.

In July we were over on the Welsh border in Chirk where we recorded a Narrowboat Session. A little while back the video of us doing our thing surfaced. Turned out pretty well.

Next Year
We're cutting back on the number of gigs, aiming for one or two a month. Only the one in the diary for next year as it stands (Good Friday at the Basement in York) but no doubt others will materialise, we're aiming to get over to Germany again, this time armed with instruments. And then there's the USA trip in May :-)

Coming Up Soon
Last November we were at the Basement celebrating Neil Young's 70th birthday. As well as having a great deal of fun playing songs with our musician friends we raised a tidy sum of money for York charity AAM (Accessible Arts & Media). We have another benefit night organised this November where we'll again be collecting for AAM. This time we have two of our favourite acts on the bill with us - excellent singer/songwriter from Hull, Carrie Martin and the phenomenon that is Atomic Raygun. We'll also be joined by AAM's Hands & Voices choir who'll open the night. It's going to be very special and we hope you can make it along. You can buy tickets in advance here



Just Giving


As you will realise we already support a number of charities, but one which has become very close to our hearts is Action For Pulmonary Fibrosis. As many of you are already aware Ann has been diagnosed with this incurable disease and we are now campaigning to raise funds for the charity which does great work to raise funds to enable research and support patients. If you would like to, you can make a donation to the charity via our Just Giving page.
We should also say that having this disease isn't going to stop Ann from performing, in fact singing is felt to be very therapeutic and beneficial for her condition and you will be still be seeing us out and about.
Date For Your Diary
As always you can find details of all of the gigs we have lined up on the website which we update regularly but here's the biggie we have to finish off the year.

November 11th YORK AAM Benefit at The Crescent with Carrie Martin and Atomic Raygun TICKET LINK

That's it for now. Keep in touch and do come and have a chat to us when you come to our gigs. We'll be back with another update in January, the earlier newsletters are here on the website.

Take care and see you soon.

Stan & Ann