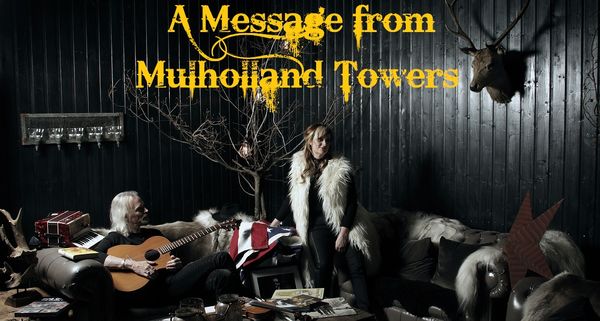 NEWSLETTER #8 - SEPTEMBER 2016
Hi there

Welcome again to your bi-monthly dip into the world of Mulholland.

Birthday Broadcast
The 23rd of June marked Stan's birthday and as promised we stretched our technological capabilities and made a live broadcast from Mulholland Towers. You can relive the occasion here, next time (Ann's Birthday?) we'll sort out the recording levels prior to transmission :-)

On The Road Again
With little breaks here and there we've been out steadily gigging far and wide, with more lined up for the next couple of months. But more about that later.....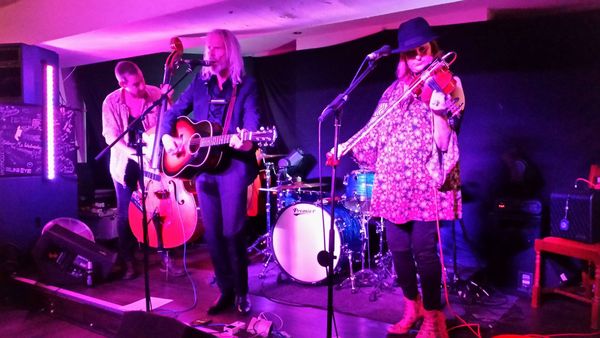 As mentioned last time we were back at the Fulford Arms at the end of June for a cracking gig opening for the Fargo Railroad Company. What a great band, from Sheffield but could easily be from Texas. A great night, we were joined by Kai West on double bass. Always a joy.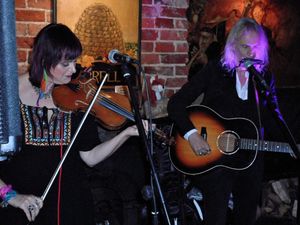 July saw us on a mini tour criss-crossing the country, starting in Swindon then Sheffield, Lincoln, Leeds and Gateshead. We've sacked the tour manager :-)

We finished up in Stockton-on-Tees where we played a couple of sessions at the Pirate Festival. A good excuse to break out the fancy dress and an enjoyable day.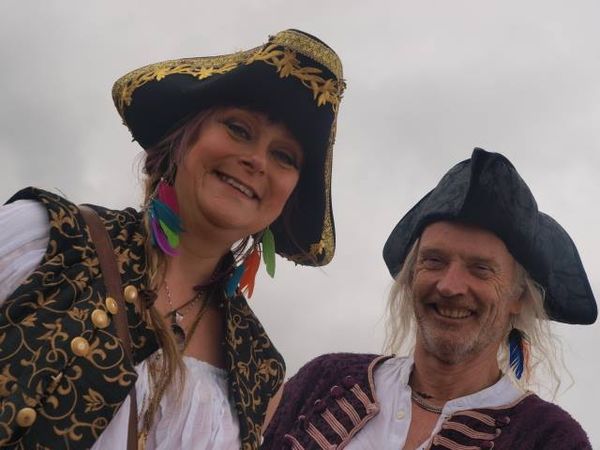 Then we were back over in Lincolnshire for our first proper gig at an overnight festival, Festival 8. What a great festival, really laid back and a great setting.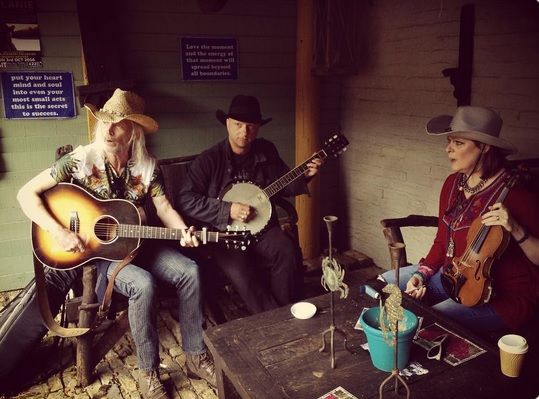 We finished our festival season in August with our first visit to Hull's Humber St Sesh, a weekend of musical mayhem with literally hundreds of musicians doing their thing in and around the marina. We played on the SpeakEasy stage hosted by our very good buddy Adam Brodie (check out his amazing band Waste of Paint) Adam also stages the music at the annual Larkin's Bar Ale & Music Festival in Hull and we were very pleased to play a set again this year. Really nice audience/day and a busy one for us as we topped and tailed it with a set at Furley & Co earlier and some songs at the Red Lion, York afterwards.

A week or so earlier, we were back at the Fulford Arms for a great night of music with Charlie Parr (from Duluth!), Richard Dawson (a phenomenon), Boss Caine (a legend) and us with Ed Simpson on cajon. There's an excellent  recording of one of the songs from our set here (keep an eye on Facebook/Website for the complete show which we'll be releasng shortly)

Talking of Americans, we opened up for the fantastic Hot Seats from Virginia a couple of days later when we played Musicport's concert at Whitby's Coliseum. Again, a nice audience and particularly exciting for us as we were joined by Graham Metcalfe on pedal steel! We are aiming to work with Graham more if possible. He's such a great player and it adds another dimension to the songs.

Radio Sessions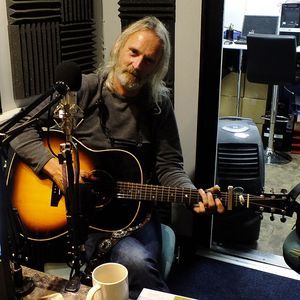 As well as plays of our songs on the radio we've had the occasional live interview/session. The most recent was at Vale Radio where we were invited onto Tony Haynes' FAB Folk & Blues show. Unfortunately Ann had to send her apologies but Stan had a nice chat with Tony, playing some CD tracks and singing a few songs. We have a couple more lined up - Lionheart Radio in September (16th) and BRFM in October (8th)

At The Movies
We've been steadily adding to the collection of Mulholland on the Silver Screen with a nice out-take from our video session at Peartree Studios earlier in the year (would have been very nice indeed if Stan hadn't fluffed the lyrics at one point :-) ) Coming shortly will be a video of us playing on a narrowboat in Chirk which we recorded in August (keep an eye on Facebook/Website for the release date) and last but not least, exclusively for our newsletter subscribers an advance look at the alternative cut of the Black Feathers video we filmed in Northern Ireland last year

Coming Up 
Two nights. Two cities. Five bands. We've had quite a few gigs over in Hull over the last year and made a lot of friends amongst the amazing musicians based there. To build on the connections between the two cities we're organising two concerts in September - at the Basement (York) on Thursday 8th and The Springhead (Hull) on Saturday 10th. It's going to be a cracking night with lots of great music. Here's the lineup (Basement tickets on sale here)

Quicksilver Kings: Born through a shared love of beer, old music, cigarettes, beer, camp-fires, beer and cider, The Quicksilver Kings are purveyors of Sixties inspired, hook-laden songs you'll think you already know, weaved over a backdrop of blues, folk, country and pop. "Superb songwriting meets equally superb performance in astonishing harmony" Jukebox Podcast

Urban Rain: Influenced by Bowie, Prince, Chrissie Hynde, Patti Smith, Everything But the Girl, singer songwriters John Cox & Rosie Que create original, funky folk with cool vocal harmonies. "Their sound was comfortably encased in my memory...warming the room with their positive energy" - Nix Chidlow Browse Magazine

Happy EndingsTwo sisters Emma and Rachel Fee, who share lead vocals and harmonies along with acoustic guitars, with Mike Jessop on percussion. They bring a mixed bag of styles to their acoustic based performances, influenced by a variety of music spanning the decades. Their soaring melodies and memorable hooks will leave you humming them to yourself once you've heard them.

Vinnie Whitehead: "I'm not from America, I'm from Hull" Now based in York, Vinnie creates a musical soup incorporating funk, blues and country with a hip hop thread binding it all together. "I fell deeply and instantly in love with I'm Not From America, I'm From Hull on first hearing. John Peel would have adored this" Tom Robinson, BBC 6 Music

And us :-)

World Tour

Well, a little bit of it anyway. We had a short break over in Germany in August, saw some friends in Hamburg and family further south. It has galvanised us (again) to think about playing over in that neck of the woods next year so we're sketching out plans for gigs in August in the Netherlands, Denmark and Germany. Fingers crossed.  Prior to that we'll be over in the States for a month, flying into Atlanta in May. Again lots of planning underway. (we've sent Dolly a copy of My Wasted Heart. If she doesn't get round to recording it at least she'll know the words when we ask her to join us on stage for some backing vocals)

New Songs/New Album
Early days but we're planning a new album early next year. Looking this time to record it old style with everyone playing live and minimal overdubs. We're thinking about possible collaborators and picking/writing songs along the way. Here's one of the self-penned ditties (Your Lover's Gone) that will definitely be on it

Dates For Your Diary
As always you can find details of all of the gigs we have lined up on the website. but here's a few special ones -

September 8th YORK The Basement  with The Quicksilver Kings, Happy Endings, Urban Rain & Vinnie Whitehead     TICKETS
September 10th HULL The Springhead with The Quicksilver Kings, Happy Endings, Urban Rain & Vinnie Whitehead
September 17th EDINBURGH Bluebird Cafe
September 25th YORK York's Little Festival of Live Music
October 4th LONDON Aces & Eights
November 11th YORK AAM Benefit, The Crescent with Lyon & Bird (Holy Moly & The Crackersss) and Jonny & The Dunebugs

That's it for now. Keep in touch and do come and have a chat to us when you come to our gigs. We'll be back with another update in November, the earlier newsletters are here on the website. If you know of anyone who might be interested then please feel free to forward this to them.

Take care and see you soon.

Stan & Ann