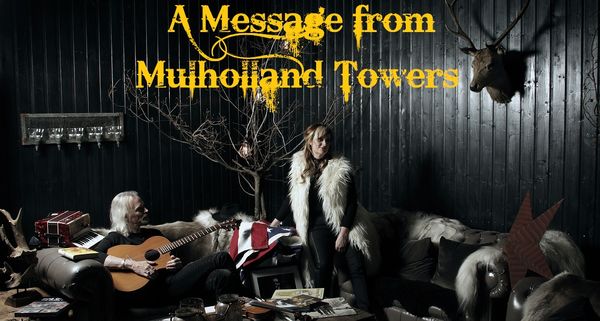 NEWSLETTER #7 - JULY 2016
Hi there

Welcome again to your bimonthly dip into the world of Mulholland.

What's Been Going On?
Well quite a bit but unfortunately it's been mostly on the non-musical side of things. As you may have picked up on, Ann has been very unwell for the last couple of months. She's now on the mend though, thanks for all of your support over this time. It's meant that we had to clear the diary of gigs for a while but we're on schedule now to recommence musical activities from the end of June (more about that later). Here's some highlights of what we did get up to since the last newsletter.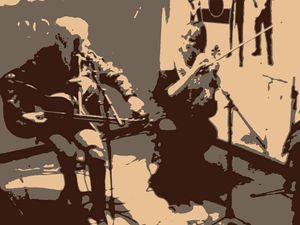 Filey Folk Festival: It was our first visit to the festival, playing on Dogfinger Steve's stage. We went over early to soak up the (intermittent) sun and listen to the great sounds in the venues all across the town. We really enjoyed playing our set to the lovely crowd at the Station later in the day. Hopefully we'll be returning next year.

Cale Tyson: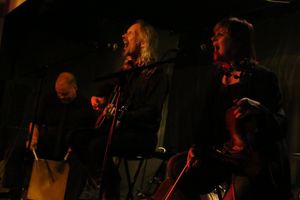 We finished off a very busy May Bank Holiday weekend by playing support for american country artist Cale Tyson. Cale has been making a big impact in the US and over here with amazing reviews for his new album. It all made for a brilliant night with us opening (with Ed Simpson on Cajon) followed by Boss Caine and then Cale and his band. Think we held up our side of things pretty well :-)

Carrie Martin at Solo's Hull: The last gig we did before Ann went into hospital was over in Hull where we joined our friend Carrie Martin for an enjoyable evening of music at the very chic Solo's Cafe. 

The Road to Recovery
After our break we've been easing ourselves back into gigging with some open mics in York and Hull. They seemed to go well and we're pretty confident that we'll be able to play the gigs we have in the diary. We're starting with one that we've been looking forward to for a while. It's on the 22nd June at the Fulford Arms in York where we will be joining Fargo Railroad Co for Boss Caine's Sundown Sessions.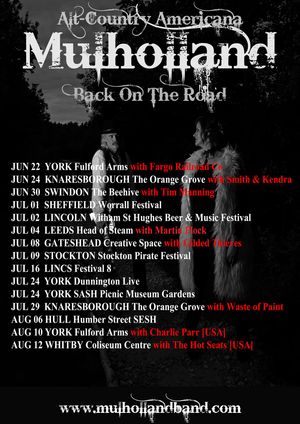 At the end of June we start a mini-tour in Swindon where we'll be playing at the Beehive with Tim Manning/Blind River Scare at his Acoustic Buzz night. Then it's over to Sheffield for the Worrall Festival and Lincoln for the Witham St Hughes Beer & Music Festival. We have a fair few festivals lined up for the summer including a weekend one at Festival 8 on 16th July where we'll be breaking out the tent for its first outing in a while.

Radio Plays/Reviews
The new album and video have been getting some nice plays and mentions on radio stations, ones coming up include BBC York Introducing on the 25th June and Swindon 105.5 Live & Local on 29th June with a phone interview with Stan.

The video for Black Feathers continues to get good feedback, a little while back it was included in a TV music show from the States - Random Acts of Music. Talking of TV, apparently we were mentioned in a local news item Calendar recently. Not sure what/why but presumably for our musical exploits.

Reviews of the new album are still trickling in and a very nice addition to the collection is the one from the people at Out In The Crowd "Are these people from Tennessee?" :-)

Dreams of Nashville
One good thing about playing less has been the opportunity to do some serious planning. Specifically we've been looking into a visit to the States next summer, probably May/June. Current plan is to fly to Atlanta then pickup a car and off we go. First stop being Nashville (natch) then OK, AR, NM and TX. All suggestions about where to play and offers of overnight accommodation would be gratefully received.

Birthday Broadcast
The 23rd of June is Stan's birthday and we'll be marking the occasion with a live Birthday Broadcast from Mulholland Towers at 7.00pm BST. Keep an eye on Mulholland's Facebook page and the front page of the band website for more details. We'll be playing some songs and chatting online to whoever tunes in. Maybe doing the odd request or two if we have a vague recollection of the song.

Dates For Your Diary
As always you can find details of all of the gigs we have lined up on the website. but here's a few special ones -

June 22nd Sundown Sessions, Fulford Arms, York with Fargo Railroad Co & Boss Caine
June 30th Acoustic Buzz, The Beehive, Swindon with Tim Manning & D. R. Roberts
July 9th Stockton Pirate Festival, HM Bark Endeavour and Dr McGonicals
August 6th Humber St SESH
August 10th Fulford Arms with Charlie Parr [USA], Richard Dawson & Boss Caine
August 12th Whitby Coliseum with The Hot Seats [USA]
September 8/10th Hull/York Gigs with The Quicksilver Kings, Happy Endings, Urban Rain & Vinnie Whitehead
September 17th Bluebird Cafe Edinburgh

That's it for now. Keep in touch and do come and have a chat to us when you come to our gigs. We'll be back with another update in September, the earlier newsletters are here on the website. If you know of anyone who might be interested then please feel free to forward this to them.

Take care and see you soon.

Stan & Ann