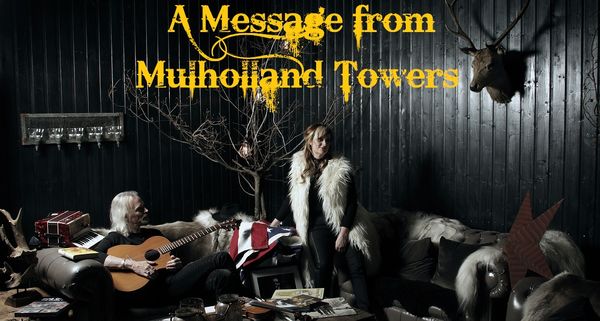 NEWSLETTER #5 - MARCH 2016
Hi there

Welcome to the wonderful world of Mulholland. You can subscribe via the form on the front page of the band website

On The Airwaves
We're pleased to say that we've been getting some really nice plays on the radio recently. Initially with early mixes of a couple of songs off the album and now with the finished tracks. A special thanks to Vale Radio, The Troubadour Show, The Audiophile Show on West Wolds Radio and The United Sounds of Americana on Lochbroom Radio. All have been great supporters of what we do. Most recently we went into BCB Radio to meet Lizzie Jenkins on her show The Northern Side. We chatted about Mulholland and the new album and Lizzie played a few songs off it. You can hear the interview on the Press & Bookings page of the website.

We've also had our first(?) radio play on mainland Europe following an exchange of messages with radio DJ Anje Kristin Kone who's based in Denmark. Anje played two songs off the new album on her Country Music News International Radio Show. 

Lastly, at the end of February My Wasted Heart was played by Alan Raw on BBC Introducing West & North Yorkshire :-)

Not quite on the airwaves, but nearly, we were invited recently to take part in Marc McGarraghy's Facebook/YouTube series The Listening Booth. So if you were wondering which artists have had an influence on our music and songwriting then check it out here. It was great fun to do, but incredibly hard to whittle down to just a few artists.



On The Big Screen


Well if you have a big telly anyway, haven't quite made it to the multiplexes just yet :-)

We have a fair few videos of us playing live here and there,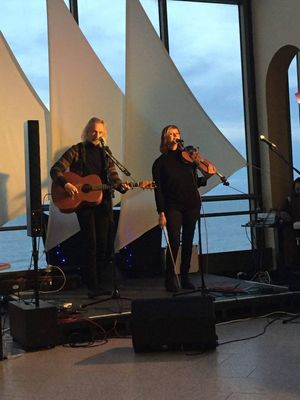 including one from our trip over to the Pavilion in Whitby before Xmas. We're pleased to say that we'll be back there on the 13th March.

A little while back we were also over to Peartree Studios where the lovely Alex and Joe videoed a few songs of us playing live. We'll be releasing these videos over the coming weeks as a taster of some of the tracks on the album.

We've also got plans for an animated video for one of the tracks which we'll be putting out later in the year.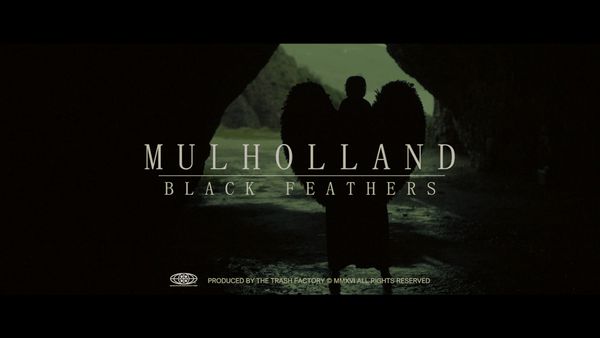 But before then we'll be releasing the video for Black Feathers. As we mentioned last time, it was shot by the same people who did our Come On Back video (James & Ronnie) It's just about there and looks amazing, even if we do say so ourselves. The plan is to show it at the album launch at the Basement. More about that later..  



On The Road
Our version of the Never Ending Tour continues with gigs running up to the album launch (25th March) and a little beyond. We're going to take a bit of time off in April as Ann's having a bit of an op, but then we'll be back out there playing across the country and quite possibly beyond as we're looking at a couple of mini tours to Scotland and Northern Europe :-) As always, you can find out where we're playing via the website www.mulhollandband.com/gigs
We've really had a cracking time over the last couple of months with a couple of trips down to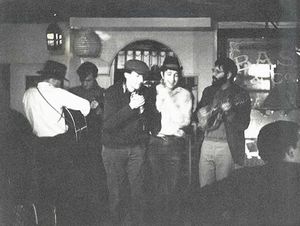 London where we played a few open mics in the East End and then a night at the Troubadour. We were (well Stan was) especially excited about playing this, near legendary, venue where Bob Dylan played when he first visited the UK in 1962. Had a great night and we'll hopefully be back in a few months

A few days before, we made our return visit to the Atkinson in Southport where we played at the Love Folk Festival. What a truly lovely place it is and a great venue.

Nearer to home we started our residency at the Orange Grove in Knaresborough in February. It'll generally be the last Friday of the month (except when it clashes with things like the album launch, then it's the day after). The first one was an excellent night which we shared with the brilliant York singer/songwriter David Ward Maclean

We haven't forgotten York though and we had an excellent night playing for the good people at VJ's Bar to help raise funds for local artist Jo Walton who's studio was effected by the recent floods.(over £400 was raised on the night).

Robert Brookes
At the end of January we're sad to say that we lost our good friend Robert Brookes. Robert was a great supporter of Mulholland and the York music scene in general (Robert and his wife Makiko helped us make the Come On Back video which they both appeared in) He was a fine musician himself and we joined other musicians, family and friends at the Ainsty in York to celebrate his life. He's greatly missed by all of us and we felt it was only appropriate to dedicate North Country to him.

Coming Up Soon
We have a weekly news update on Facebook and on the website where we give details of upcoming gigs etc and also list what music we're listening to at the moment.. Here's a few special ones -

March 9th: we make our first visit to the Crescent, York to support the excellent Lowri Evans . Our good friends Waste of Paint are also on the bill. Going to be a great night. Tickets are available here

April 30th: we'll be at the Filey Folk Festival, it'll be day 2 of the three day event which has an amazing selection of bands/musicians playing all across the town. That same weekend we'll also be appearing at The New Ebor Street's event at York Railway Institute.

May 07th: we'll be over in Newcastle at the fab venue, the Mining Institute (an old Victorian lecture theatre) where we'll be part of a night of music along with Driven Serious, Gilded Thieves and Ramble Gamble

May 8th: it's a night of Americana at the Fulford Arms, York with us and a bunch of real Americans! :-) Susan Herndon [USA] + Clyde's On Fire [USA] + Reid Jamieson [CANADA] + Steve Chapman Smith.

But the big one of course is,,,,,,,
The New Album
Well at long last we're thrilled to say that North Country is about to see the light of day. We've ordered the CDs (should arrive any day now) and have been busy rallying the troops for the album launch itself. In the meantime, we've started sharing the tracks with the great and the good to get their views on it all. Here's an early review from YorkMix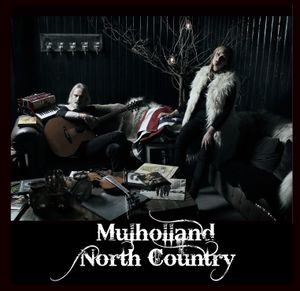 We'll be launching North Country at the Basement York on Good Friday March 25th where we'll be joined by The Bronze and The Lungs. Two more duos and two of our favourite bands. Local artist Jo Walton will also be there and exhibiting her brilliant prints. We're really looking forward to the night and hope you'll be able to join us. You can buy tickets from City Screen in York or via the Basement's website. And there's a free North Country CD included in the ticket price.
That's it for now. Keep in touch and do come and have a chat to us when you come to our gigs. We'll be back with another update in May, the earlier newsletters are here on the website.


Take care and see you soon.

Stan & Ann