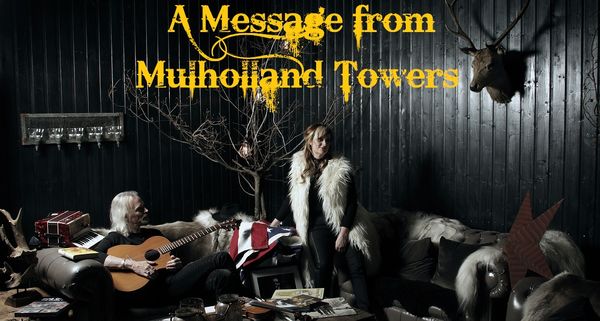 NEWSLETTER #3 - NOVEMBER 2015
Hi there



Have you bought your tickets for the Neil Young Birthday celebrations on the 12th November? Tickets are selling fast, details at the end of the newsletter.



Busy times for Mulholland and lots of news to update you with.
New Album
We've been busy working on the next album, North Country with Vinnie Whitehead, writing new songs and recording overdubs with some of our very talented musician friends. The tracks are sounding amazing, if we do say so ourselves :-) There are a couple of early mixes on the website, have a listen and let us know what you think.
We'll be launching North Country at the Basement York on Good Friday next year and we're planning a few interesting additions to the night beyond showcasing the album. Hope to see you all there.


Mulholland on the Silver Screen
In October, Americana UK made the Come On Back video their Video of the Day on their website so a big thanks to them. The video is also in the running for the Leeds Music Video Awards with the winner being picked on 8th November. Fingers crossed.

We're working on recording some more visual stuff and on November 1st we videoed a gig at the Fleeting Arms with York cinematographer Camille Sainsbury so we'll have some nice live footage to put up on the website shortly. And finally on the video front, we're deep into the plotting and planning for our next music video :-) More news on this little epic next time.


Mulholland Out and About
The band diary is looking very healthy indeed with lots of gigs up to Christmas and more booked for 2016. We've been playing venues across the north including Leeds, Harrogate, Beverley and Bradford where we had a particularly good time at the Shuttle Shuffle Festival.

In October we ventured down to the deep south with a gig at the Boaters Bar in Reading and the Canvas Bar in hipster central Shoreditch. Expect more in the future.
Looking further ahead we've been applying for festivals for next year and planning tours (yes plural) to showcase the new album. North Country, following its release next Easter. More about that next time.
Oh yes, we also spent some time in Avignon doing a spot of busking. Helped to pay for the odd meal or two :-)

As always, do get in touch if you know of anywhere or anyone that would like us to play near you.

Current gigs booked are on the website

Mulholland on the Airwaves
Since the last newsletter we've had some really nice plays on radio stations for Black Feathers, a track off the forthcoming album. Big thanks to BBC Introducing York, The Horseshoe Lounge on Vale Radio, Yorkshire Music Collective on BCB Radio and BRFM on the Isle of Sheppey :-)

Across The Universal Soundscape also included the track in their City to City York Soundcloud playlist (along with some wonderful York bands such as Boss Caine, The Blueprints, And The Hangnails, Dan Webster, Junk, David Ward Maclean, Sam Griffiths, The Rodeo Falls, Bull...)
As we mentioned last time, we had a live session on the Fox's Den show on Vixen 101. Had a great time with host Bill and the lovely lady of the cakes, Jan. We were joined by bassist extraordinaire, Kai West on double bass - if you haven't heard/checked out Kai's old band, sadly now disbanded, the Littlemores, then you should. Possibly Mulholland's favourite band.

And just before we posted this out, we've been into Vale Radio to have a chat and sing a couple of songs on the Breakfast Show. They've put Black Feathers on their A List as well :-)
Gigs Not To Miss


Wednesday 11th November: The Duchess


One of our goals has been to play at one of York's top venues, The Duchess, so we're very pleased to have been asked to play there and to be supporting the Irish legend Pat MacManus. Get in contact if you'd like half price tickets from us.

Thursday 12th November: Neil Young's 70th Birthday Party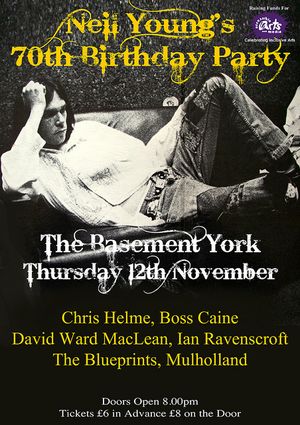 To celebrate the great man reaching another milestone we're organising a benefit in aid of Accessible Arts & Media at The Basement, York with an amazing lineup of York's finest singing their favourite Neil songs - Chris Helme, David Ward Maclean, Boss Caine, Ian Ravenscroft, Shakey Horse(The Blueprints & The Buccaneers) and Mulholland of course.

We have a sponsor to cover the costs of the night so all of the ticket money will go to AAM. Tickets are £6 in advance and £8 on the door and can be booked via City Screen.
Saturday 19th December:
A Bit More Festive Fun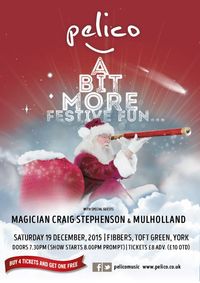 Yes, Christmas is around the corner and we'll be helping with the runup to it when we play our debut gig at York's Fibbers (been on our wishlist from the beginning). We'll be part of Pelico's Christmas Party extravaganza. Santa Claus is Coming To Town! :-)

Tickets are £8 in advance and £10 on the door. Get yours directly from us or from Fibbers


That's it for now. Keep in touch and do come and have a chat to us when you come to our gigs. We'll be back with another update in January, the earlier newsletters are here on the website. If you know of anyone who might be interested then please feel free to forward this to them.

Take care and see you soon

Stan & Ann