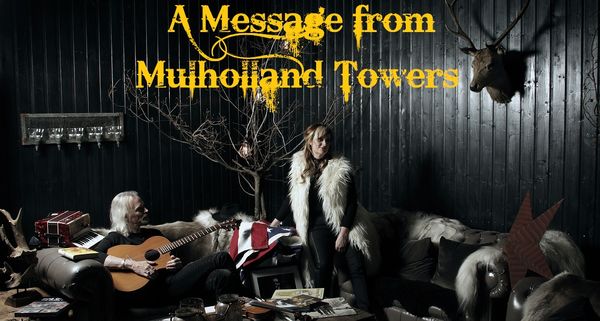 NEWSLETTER #13 - OCTOBER 2017

Hi.

Welcome to your quarterly dip into the world of Mulholland.
Hot Off The Press
First off, we thought you might like to hear a recent recording we made with Dan Webster. It's our version of Tift Merritt's Supposed To Make You Happy. Hope you like it.
Out & About
We've been trying to get out to see other bands and to play the occasional open mic as and when. And not done too badly :-)
York: A memorable few, on the open mic side of things, were Vinnie Whitehead's at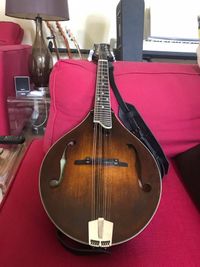 the Red Lion and the Fossgate Festival (Ann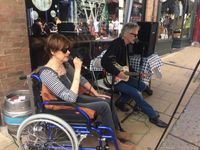 channeling Phoenix Nights), Dave Keegan's open m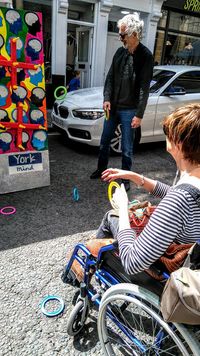 ic at the Winning Post where Ann debuted her new mandolin and Chris Helme's Ruby Tuesdays at Sotano (Stan playing solo). Sotano was the location for our first music video Come On Back.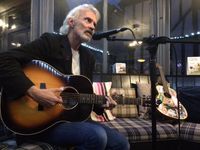 In June, we went to a lovely night of lovely music at the Fulford Arms to see our favourite Scot, David Ward Maclean, for his birthday concert joined by the fab Steve Kendra & Edwina Hayes.
And a week or so back we went to see our favourite Unsigned Songwriter of the Year :-) Gracie Falls. Gracie and Alex were playing a charity event at Cafe Nero in York and we popped in for a coffee, sublime country sounds and a chat with Ellen Cole, organiser of York's Little Festival of Live Music. Part of late September's York Food & Drink Festival, Little Fest is seven nights of free music with all money donated going this year to York Mind. As well as playing our set on the Thursday, we went the previous Sunday to see Chris Helme, Gracie Falls, Smith n Wallace and Boss Caine. What a great lineup.
London: And then there was Tom Petty & The Heartbreakers in Hyde Park. Wow, what a great day. We had an excellent view from the viewing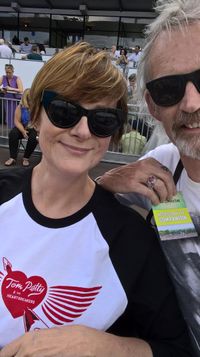 platform and witnessed a truly great concert by an amazing bunch of musicians.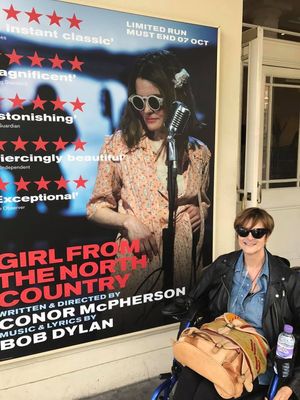 We returned in September to see a new play at the old Vic, Girl From The North Country. The play/musical was very well done with a great cast and some really lovely versions of the wall to wall Dylan songs. Here's Stan's review
Manchester: Another overnight stay in September was in Manchester for our first Ryan Adams concert. What a guy and what a songwriter/performer. Magical stuff.
Gigs
We've played some really nice gigs these last few months in some excellent venues. We started off in mid-July at Seven Arts in Leeds for their Seven Live night (full house which is always good) and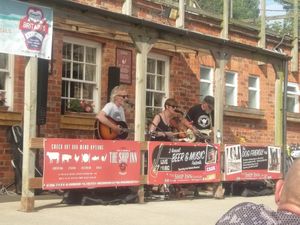 a cou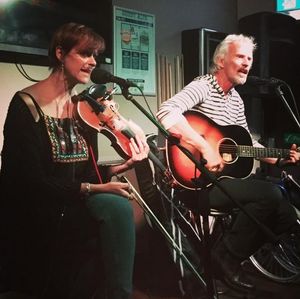 ple in our favourite east coast city, Hull - Tuesday At The Tap@St John's Hotel and the Head of Steam. Both brilliant. Our final visit that direction was to the Ship Inn in Sewerby/Bridlington where we shared a sunny afternoon singing to a nice crowd alongside Boss Caine, Will Dreyfus and Simon Snaize (all great musicians, you should check them out)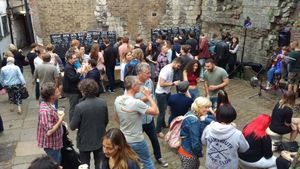 Then there were a few beer festivals in York (the irony given our Teetotalness) - House of Trembling Madness Beer Festival, B-Fest@The Barbican Centre and the York Beer & Cider Festival at the Knavesmire. And York's Little Festival of Music@The Food & Drink Festival.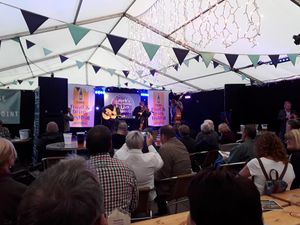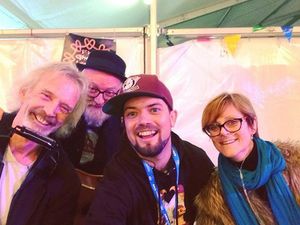 An excellent music festival topping off a great summer was our first visit/first time playing the Pennine Sky Americana Weekend at the UK's highest pub - the Tan Hill Inn near Richmond. Near, as in perched on top of a mountain at the end of a long road. Worth the hike though. An excellent evening topped off with a drive back down in bright moonlight, escorted by a couple of owls as we dodged the herds of bunnies.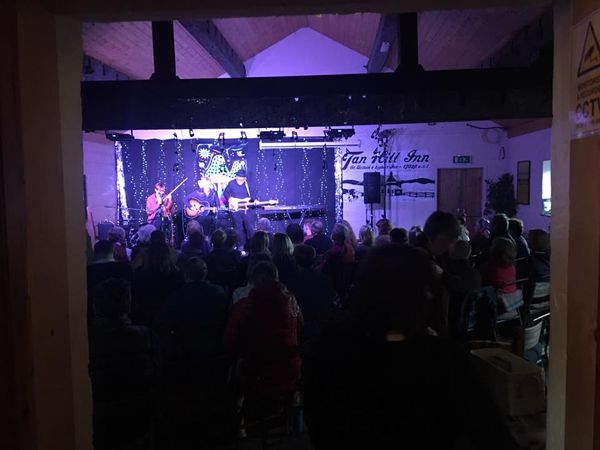 Whitstable/Folkestone: Earlier in the summer we had a few days break in Kent to see friends and family and also pick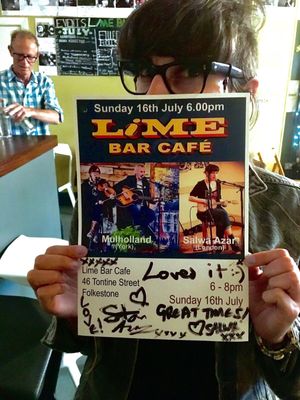 up on where we were last year when we went to play a gig and do a bit of radio but had to cancel. This time it all went well and we had an excellent time at the Lime Bar Cafe where we shared the night with the very talented/lovely Salwa Azar (there's a couple of video clips here and here).
Radio Waves/TV Times
The day before the Lime Bar Cafe gig we went into the studios of BRFM 95.6 FM (Isle of Sheppey) for a chat with Alan Hare on his This Is My Country show. Here's a sound recording of our time there (Radio Show) and a few bits of video (Cold Wind Highway 101  Black Feathers)
We're hoping for some more radio sessions in the run up to the IPF fundraisers to help spread the word (see below). One we have in the diary is on Tony Haynes FaB (Folk and Blues) show which has recently moved to Tempo 107.4FM. We're on at 8.00pm on 14th October.
And then there's the small screen. On the 25th September, we went into see the guys at That's York TV to record a piece about the IPF concerts.
Video Games
We've been pondering for a while on how best to make available Mulholland videos (and whether to shoot some new footage). All that we have of it is on the band's YouTube channel and on the Repertoire page of the website with a selection on the Video page. We will be adding to it as new bits surface and perhaps film a concert sometime but in the interim Stan's been 'putering with some of the existing footage and put together a couple of show reels which we'll send to venues/festivals etc. when applying for gigs. (show reel 1 show reel 2). Now if we can just get them in front of Whispering Bob and Jools.......
Tunes In Two Cities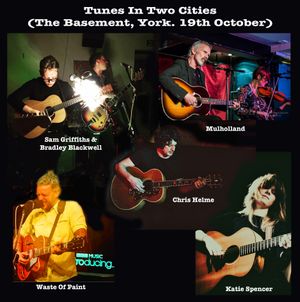 So, the big event(s). As you will probably already be aware, Ann has a serious lung condition called Pulmonary Fibrosis. It's a very debilitating disease which progresses quickly and limits suffers' ability to breathe. Ann has recently started a new drug which should help to slow down its progress for a time and fortunately at the moment all seems good in terms of side effects.
As we mentioned last time, we're organising a couple of fundraiser concerts in October in aid of two charities that support research and raise awareness for the condition - Action for Pulmonary Fibrosis and the Pulmonary Fibrosis Trust. We'll be following the same format as last year's Tunes In Two Cities with a gig in York at The Basement on Thursday 19th and one in Hull on Friday 27th at Kardomah94. It's an amazing bill with us (natch) and Katie Spencer, Waste of Paint, Sam Griffiths & Bradley Blackwell plus Chris Helme (in York) and Gracie Falls (in Hull). We hope to see as many of you as possible on the nights. All ticket money will go to the charities. We've set up a web page with links to online ticketing (Tunes In Two Cities Tickets) and there's a video we made where we talk about the concerts. In the meantime if you'd like to support the cause then just go over to our Just Giving page.
Coming Up
So the general plan is broadly more of the same. We have a few gigs lined up to go to (Rob Brydon and Tom Robinson in York and Jason Isbell & Tift Merritt in Birmingham) and a few to play, with probably a few more to add before Christmas. Here's what's in the diary at present
OCT 01: HULL:   Off The Road Presents@Jaz Bar
OCT 14: RADIO: FaB Folk & Blues Show on Tempo 107.4FM
OCT 19: YORK:  Tunes In Two Cities (IPF Benefit)@The Basement with Katie Spencer + Waste of Paint + Sam Griffiths & Bradley Blackwell+ Chris Helme TICKETS
OCT 27:  HULL:   Tunes In Two Cities (IPF Benefit)@Kardomah94   with Katie Spencer + Waste of Paint + Sam Griffiths & Bradley Blackwell + Gracie Falls TICKETS
OCT 29: YORK:   Nashville Sessions@Edinburgh Arms
NOV 12: LEEDS: The Speakeasy@The Crowd Of Favours

As always you can find details of all of the gigs we have lined up on the website which we update regularly.

That's it for now. Keep in touch and do come and have a chat to us when you come to our gigs. We'll be back with another update in January, the earlier newsletters are here on the website.

Take care and see you soon.

Stan & Ann