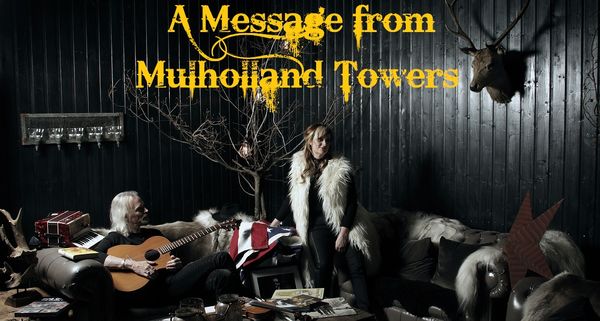 NEWSLETTER #12 - JULY 2017
Hi.

Welcome to your quarterly dip into the world of Mulholland.
Second Anniversary
The Fourth of July marks the two year anniversary of when we officially launched ourselves as Mulholland the Duo. Since then we've played 134 gigs and 46 open mics (92 gigs in first 12 months) all across the UK from Inverness to that there London (you can view on our website venue map. I know - Stan, a man with too much time on his hands ?) We've had a fab time and loved playing in front of so many people as well as meeting friends (new & old) along the way. We've progressively included more of our own material in the sets but still include the odd cover, always a song(s) we love. A new page on the band website has our repertoire with links to audio and video where they exist (get in touch if you have any we're missing).
The Boys In The Band
Over this time we've had the great privilege (and fun) of working live and in the studio with some of York(shire)'s finest musicians. People who have helped us out on more than one occasion include
| | |
| --- | --- |
| Ed Simpson (percussion) | Graham Metcalf (pedal steel) |
| Kai West (double bass) | Mike Tavener (dobro) |
| Steve Aspley (percussion) | Steve Collington (bass) |
Heroes one and all.
Out & About
So the plan was we'd ease back on going out and generally take it easy. Well, we are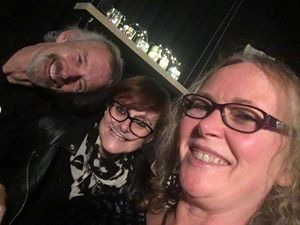 doing a bit less than last year (which was a bit mad in terms of gigs, playing and watching) but still managing to fill the weeks with some excellent music from friends near and far. Since last time we've been to concerts in
Thirsk - Jess Morgan, a nice night organised by occasional Mulhollander bassist Steve Collington
Hull - Katie Spencer & Band (brilliant singer/songwriter with a brilliant band including John Martyn musicians) and David Ward Maclean ("the best singer/songwriter in the UK" Chris Helme) at Kardohmah94.
Bridlington  - The Sundown Sessions with Boss Caine, DWM, Dave Keegan, Gracie Falls. Sunday afternoon by the seaside with fab music. We're playing the sessions on August bank holiday Monday.
And York of course (music centre of the known universe) where we enjoyed the delights of Californian band Calico supported by Dan Webster, Oklahoman Susan Herndon supported by Steve Chapman-Smith (both gigs at the revamped Winning Post) and New England singer/songwriter Rachel Ries (House Concert).
In "Flaming June" we headed down to the South West to see friends and spend a week soaking up the sun and playing an open mic or two in Weymouth . Best laid plans..... We picked the worst week with high winds and clouds/rain (it was significantly better back home in York). By Thursday we'd had enough and headed back (it was good to catch up with a few of our friends down there). It gave us an extra day to recover in any case which made the Saturday gig in Keighley at the Willow Tree Inn a lot more enjoyable.
Stan's Birthday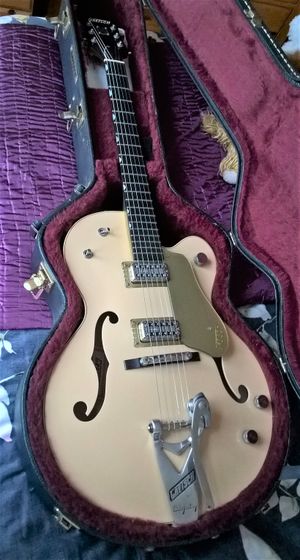 The 50th anniversary of Sgt Pepper's in June with it's memorable ditty When I'm Sixty Four coincides with Stan reaching that number. After kicking off the day with a truly amazing pressie (see opposite) we went out for breakfast at our favourite Micklegate cafe, Partisan, followed by a trip to our other favourite York spot, City Screen, for a helping of superhero antics (Wonder Woman) and dinner. A lovely day  indeed.
Gigs
And then there were our gigs. Some nice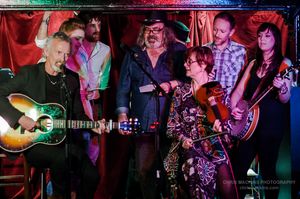 ones too. At Easter we returned to the Basement in York for our (now annual) Mulholland & Friends night. An all Country/Americana bill with Steamtown, Steve Chapman Smith and Gracie Falls. We had a great time and were pleased to see such a big crowd including some friends who'd driven over from Wrexham to surprise us ? Here's some pics and video clips - Cold Wind Black Feathers  I Shall Be Released.

On the two May bank holidays we played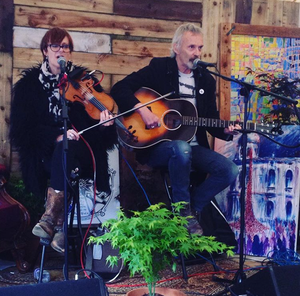 sets over in Hull at Larkin's Bar (always a nice crowd/good afternoon). The late bank holiday was particularly busy with a benefit for the Manchester victims in the afternoon in York and then a set over in Hull in the evening at Kardomah94 (we're back there in October for our APF benefit night). On the Sunday, as well as Larkins, we played the Springboard Festival in Cottingham (here's a couple of videos from the day video video) and then, as mentioned earlier, on the Monday we headed over to see the Sundown Session in Brid. It would have been busier still if the gig we had on the Saturday went ahead ?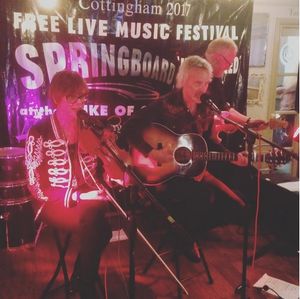 Talking of festivals, along with Springboard we played some other nice ones. There was Filey Folk Festival (always a big and appreciative crowd), the first Coxhoe Festival in Durham and a mini Blues Festival (well afternoon really)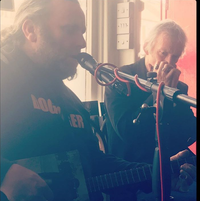 in Driffield hosted by our favourite cigarbox guitar bluesman Dogfinger Steve (a pic to the left and a video snippet here).
And finally a quick mention for our return visit in May to Whitby Pavilion for the Sunday afternoon Musicport  session (again nice, appreciative crowd).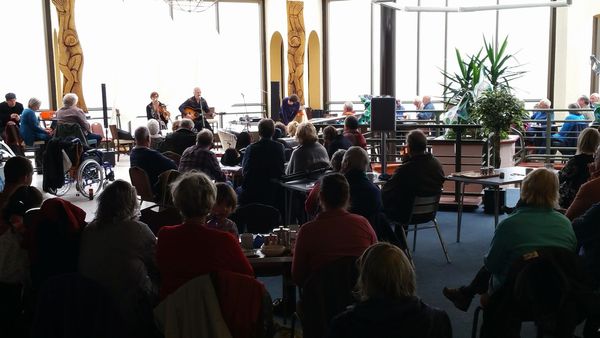 Upcoming Festivals
In early July we'll be heading down to Hyde Park to see Tom Petty. It will be the first time we've seen him so we're really looking forward to it. If Tom or Benmont feel in the need for some help on the night we'll be on hand to step in on a song or two ?
We are scheduled to play a few festivals over the next few months returning again to Festival 8 in Lincolnshire and York's Beer & Cider Festival plus a few new ones for us - Pennine Sky Americana at the Tan Hill Inn (the highest pub in the UK), a community festival in Riccall south of York and a new festival at York's Barbican theatre, B-Fest. Can't be bad.
Video Games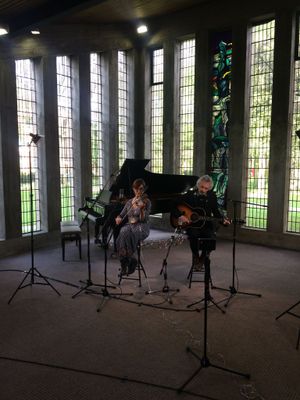 Although it's great to have audio recordings, you can't beat a little bit of video sometimes. We were particularly pleased to take part in the Chapel Sessions project where a group of people from York St John's University are videoing musicians from in and around York in the lovely setting of the campus chapel. We made a few recordings, the first of which has been released - Highway 101.
And because you can never have too much of a good thing (or just bad planning on Stan's part) we've put together some footage to go with the studio version of Highway 101 which happens to feature cigarbox guitar by the aforementioned Dogfinger Steve ? You can view it here.

Tunes In Two Cities
As we mentioned last time, we're planning a couple of fundraiser concerts in October in aid of two charities that support research and raise awareness for the lung condition that Ann has - Action for Pulmonary Fibrosis and the Pulmonary Fibrosis Trust. We'll be following the same format as last year's Tunes In Two Cities with a gig in York at The Basement on Thursday 19th and one in Hull on Friday 27th at Kardomah94. We'll have more details next time but as it stands it's an amazing bill with us (natch) and (subject to change) Katie Spencer, Waste of Paint, The Howl & The Hum and Chris Helme. We hope to see as many of you as possible on the nights. All ticket money will go to the charities. In the meantime if you'd like to support the cause then just go over to our Just Giving page.
Coming Up
We're at an early stage of planning a special concert in York which we'll record as a video. Keep an eye out on the website/Facebook/email for the date and join us if you can. It'll be free entry, probably be sometime in August.
Below you'll find the current list of gigs up to the end of September.

JUL 12:  LEEDS Seven Arts
JUL 15:  RADIO This Is My Country, BRFM 95.6 FM
JUL 16:  FOLKESTONE Lime Bar Cafe
JUL 18:  HULL St John's Hotel
JUL  21: LINCS Festival 8
AUG 05: RICHMOND Pennine Sky Americana Weekend
AUG 12: SELBY Riccall Festival
AUG 19: YORK The Barbican Centre
AUG 28: BRIDLINGTON The Ship Inn
SEP 21:  YORK York Beer & Cider Festival

As always you can find details of all of the gigs we have lined up on the website which we update regularly.

That's it for now. Keep in touch and do come and have a chat to us when you come to our gigs. We'll be back with another update in October, the earlier newsletters are here on the website.

Take care and see you soon.

Stan & Ann