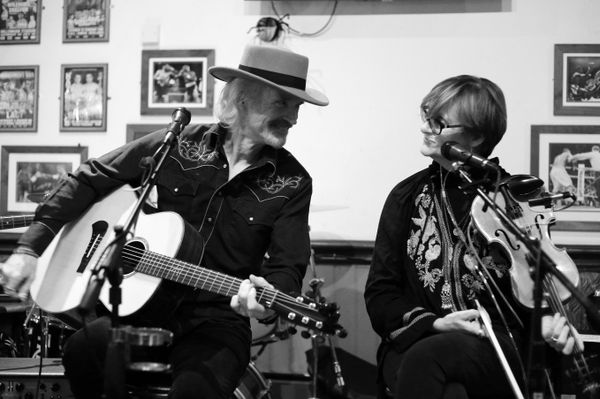 NEWSLETTER #15 - APRIL 2018
Ann died on Monday evening at St Leonard's Hospice. After struggling for so long with her breathing because of the dreadful illness she had (IPF), in the end she was peaceful and is now at peace. I was there at the end which happened very quickly and, mercifully, without any stress or discomfort thanks to the wonderful medical support and staff at the hospice who were so kind and skilled in their care for her.
We used to laugh at Spike Milligan's epitaph "I told you I wasn't well". Ann was diagnosed with IPF about 5 years ago but ignored it as there were no symptoms up until the summer of 2016 when she had pneumonia and it left her with massive scarring of her lungs and about 50% lung capacity. It was just about a year after we'd moved Mulholland to just being us two (often ably assisted by a string of lovely talented musicians). Then it was just us dealing with it as it progressed. I bought her a wheelchair (without her knowledge) when I saw how breathless she was when we played the Sundown Sessions in London and we used it to conserve her strength and to be able to get around town fairly normally. Then we had oxygen generators at home and portable oxygen which Ann would need to sing.
Again we'd laugh at the thought of two old geezers turning up at some gig to play and all of the palaver of getting Ann seated ok with her oxygen (stressing me out fairly regularly :-) ) And then we'd sing and play and it was wonderful. We'd imagine the crowd silently going "Wow!" We just got better and better as the disease got worse. We did literally hundreds of gigs up until the two IPF benefit gigs last October. Even then the problem wasn't her playing or singing (although by then she had to work out how to fit the words into each breath) A common symptom of the disease is anxiety, something that Ann never really had previously. It was becoming more and more stressful for her on the run up to a gig and we decided to call it a day.

It was the most amazing time of my life, and I know it was Ann's feeling too. So wonderful to do it together. They were Mulholland's last gigs and there won't be any future ones, it's unimaginable to think of replacing her in the band. After a lot of thought I've decided to go on solo. It won't be the same, nothing could be but I'll often be singing for and with her.
I only knew her for eight years but we crammed a lot into the short time together. In the last few years we made lots of new friends together and shared old ones. Thanks to all of you for making Ann's final time so loving. I still can't believe she's gone but I guess we're all going to have to live without her. She leaves a lot of wonderful memories for me and I'm sure for you too.
The day before she died our very good friend David Ward Maclean came to sing to her. Such a beautiful moment 
Here's a webpage with videos, radio clips etc where Ann talks about the disease with a link to a fundraising page.
Love Stan
Ann Dunford 1960-2018 ❤